We are pleased to announce the release of CDR-Stats, version 3 that includes CDR rating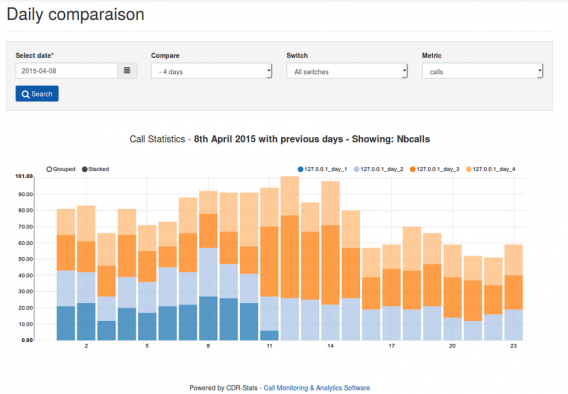 This latest version features:
CDR Mediation
CDR Rating
Multi-Switch Support
Multi-Tenant
This version is designed for Telecoms companies and larger organisations who want to:
rate calls for later billing
reconcile carrier costs
have visibility on departmental telephony costs
analyse and report on call traffic
detect fraud
As well as being multi-tenant, CDR-Stats is multi-switch. This latest version puts a framework in place which allows integration from a much wider variety of switch types, carriers and CDR formats than previous versions.
Right now, out of the box, CDR-Stats supports Freeswitch, Asterisk, Kamailio, SipWise, Veraz, and support for other carriers and switches such as Mitel Cisco, Alcatel-Lucent and 3CX can easily be implemented.
CDR-Stats is installed on a dedicated Debian 8 server or virtual machine with a minimum specification of 1Gb or RAM and a 40Gb hard drive. Where possible, a CDR-Pusher is installed on the switch to push CDR into CDR-Stats.
Installation guides and documentation can be found at http://www.cdr-stats.org/documentation/beginners-guide/ and we offer a managed install with training and deployment support at prices starting at €475 Euro
Please contact us for more details via http://www.cdr-stats.org/contact/